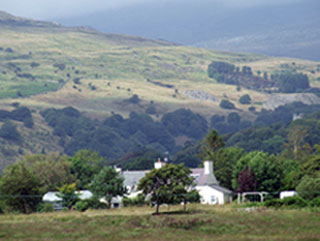 Croeso - Welcome to Ynys Pandy
Our self catering holiday home nestles in acres of unspoilt peace, overseen by a huge sky with mountains at the front door and a distant horizon towards the sea at the back. The pace of life here is slow: Be busy doing nothing or be nothing but busy. We are only 4 miles from the sea and less than a minute's walk to Snowdonia National Park and nowhere seems more than a half hour ride away! The castles of Criccieth, Caernarfon and Harlech, countless deserted coves and the vastness of Blackrock Beach or the joy of Portmeirion. So many outdoor adventure activities, the iconic Welsh chapel, theatres and cinemas. World famous narrow gauge railways (3 including the one up Snowdon) and everywhere, the beauty of the Welsh landscape, language and culture.

People who have stayed at Ynys Pandy tell us it is a special place and we invite you to experience the peace and space for yourselves. Beautifully furnished and well equipped, we sleep eight people plus a baby in a cot though we recommend six adults with two children. We are pet friendly to well behaved pets, bearing in mind that there are sheep in the field, that we have two free range dogs and there are usually horses to be found and rare breed sheep in our fields.

The pace of Life here is slow: do what you want when you want. Be nothing but busy or be busy doing nothing. Mountain walking or climbing, golfing or fishing, castles or beaches, good eating and sound sleeping: It`s your choice. If you like the idea of self catering in the glory of North Wales, on the very boundary of Snowdonia National Park, the mountains, the sea, in the layed back situation of a pet friendly 1800`s Welsh farmhouse, you will enjoy staying with us. We don`t make that claim without backup but you`ll just have to come here and read our Visitors`s Book!










Sunday Observer's top 50 holiday cottages in UK